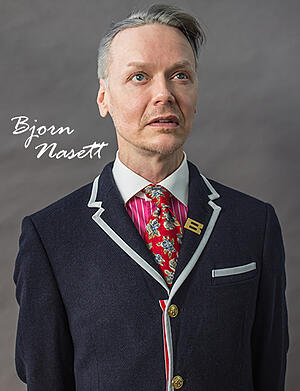 And now a little shout out love to my brilliant fashion pal and general good-guy buddy Bjorn Nasett, Goodwill Ambassador, the dapper due in the photo, who showed me a lotta love in one of his most recent posts on the Amazing Goodwill, linked here and shown below, picking my brain about the New York Fashion Week: Men's shows. Please read on!
The return of Men's Fashion Week just concluded in New York City, and with that, the focus on male style has taken a giant leap forward in the minds of the public at large. On the scene for the numerous daily shows and presentations was my dear friend and fabulous fashion blogger, Kim Cihlar. I thought I'd impose upon her to share with us an insider's sneak peek of what the powers that be on the men's fashion scene have in store for the super stylish man!
Why do you think men's fashion needed its own showcase apart from New York Fashion Week?
New York did have a separate men's fashion week, in the early '90s to almost mid '90s, when I first started covering men's fashion for the Daily News Record (DNR) trade newspaper. Somehow, it became short-changed when menswear designers began to jump ship to show in Milan. Then again, the week got short shrift when it was lumped into the women's wear fashion show weeks. You see the buying schedules are different for men's wear than for women's wear. To put the men's in with the women's shows in September ends up with the wrong timing, since buying for the season had been done already. Another reason why I think men's fashion needs its own separate week and why it's so very important,  is to give men's wear designers their just due as visionaries. There is so much excitement, newness and creative direction in the menswear industry that it just makes sense to showcase it separately.
So how many shows did you see in total?
For this NYFW:Men's, that began July 13th, I attended about a dozen shows. Three of those "shows" (the two New York Men's Day (NYMD) presentations held at Industria and the Capsule Showcase presentation at the new Skylight Clarkson Square venue) highlighted six-to-seven designers at one time. So I probably took in presentations and or runway shows of about 23 designers.
What are the top trends that you took note of?
There were a lot of androgynous looks — using fabrics normally reserved for women's wear, like chiffon — skirted effects over trousers, a very voluminous pant shape. And long hair! I was posting with a couple of hashtags that I thought captured that – # deathtothemanbun (I'm so over that look!) and #wearyourhairdown! The hair was part of that androgyny trend, a little bit '70s, which Parke & Ronen laser pinpointed in their collection, a bit rock 'n roll, as seen at John Varvatos, but also just really fresh and new looking. More trends: a lot of great sportswear that worked around shorts and incorporated so many different varieties of pants. New tech-y fabrics. Indigo hues, lots of various shades of blue. But the biggest trend was really all the different silhouettes used for pants. Today's guy has so many options out there! Straight and cropped, voluminous and more flowing, wide and cropped, pleated, super wide and paper bag waisted (as seen at Duckie Brown), shorts that are long, or short/short sporty length. Designers have given men many, many reasons to buy new pants for Spring/Summer 2016!
What didn't you like?
I happened to really like the androgynous looks, but there were a few pieces, from one designer in particular, that went a little too girly, too out-there for me in the direction. I didn't really care for that collection's super colorful and mixed patterns, and shall we say, um, "enthusiasm" in making guys look like girls. I suppose there is a customer out there for that, but there were so many other well done collections that I felt as though this one fell short.
What can the average guy incorporate into his everyday wardrobe in your opinion?
I truly feel that from this season it was the various permutations of what's fresh and new in trousers, shorts and cropped pants. There were amazing toppers, from the white shirt to the patterned knit. And some great T-shirt and jeans options. Also, there was a boatload of great swimwear, too (maybe not for every day!), and super outerwear options. I loved the techy versions, the waterproof blazer from EFM, the duster-length rain coats from CWST. And the tailored looks, like the colorful end-on-end linen suits from David Hart and the dark and dapper tailoring at Eponymovs. I think guys have learned how to dress in quite a creative manner. The new crop of designers are catering to the young male fashionista with very wearable, but cool and stylish clothing. Clothing with an edge and a story to tell. Guys can find their style point on a sliding scale from very tailored and dapper to more rad street sportswear, but at the same time, it all looks quite polished and professionally-based.
Well, there you have it from an industry insider! Please check out the slideshow below, and you can see more of Kim's posts on her blog www.fashionwhirled.com. Keep in mind that the latest and the greatest can be adapted to anyone's personal style, and Goodwill might just be the place to start your "mansformation!"
Topics: men's fashion, summer fashion, bjorn fashion expert, Bjorn Nasett, men's fashion trends, Kim Cihlar
Goodwill Fashion Expert—Bjorn Nasett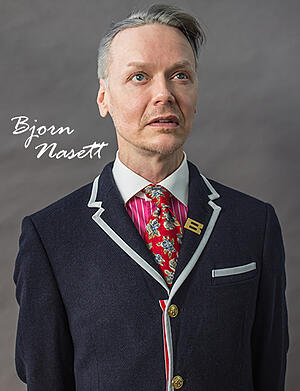 Wisconsin farm boy, Bjorn Nasett, has always had big dreams of making his mark in the world of fashion and style. With a career spanning over 30 years, he's done it all! His success as a writer, editorial stylist, vintage clothing expert, hair stylist, makeup artist and photographer, along with a knowledgeable eye for design and proportion, make him a sought after consultant in the field of fashion endeavors of all kinds. In a nutshell, his authentic take on how creativity and design fit into everyone's life comes from the heart. You can also check out his website www.fashionfarmboy.com for more of his photographs and thoughts on fashion.
Be sure to read Bjorn's weekly column for great advice. If you have specific questions send him an email at askbjorn@goodwillsew.com.